Bengali translation: "Your trusted Bengali (Bangla) translation provider."
Bengali to English translation - English to Bengali translation (বাংলা < > ইংরেজী অনুবাদ)

Translation on time - on budget with the requisite standard

We make it possible for you to convey your thoughts, ideas, hopes, dreams, ambitions, experience and anything you want to people who share a different language and a different culture.



Language translation allows companies to trade successfully in other countries, to reach new customers and to materialize their full marketing potential. A skilled translation work can make the distinction between a successful or ineffectual business or cultural understanding, between encouraging and preventing a sale and ultimately between being taken earnestly or not.

Translation is the necessity for today's world and we are providing the Bengali (Bangla) translation in its best possible way.



Choosing the Right Bengali Translation Partner

We have chosen our native-speaking translators because of their ability to communicate the message well and because they are dedicated to make it possible for the receiver the clear and accurate understanding of the language. Translation means the accurate well-readable presentation on other language, and we can assure you for the joy of reading of thoughts.

When translating specialized documents in various fields, like technical translation, legal translation or website localization, it's necessary that all the terminology is translated properly. Taken to an extreme, technical translation can literally be the difference between day and night. May be it sounds a little surprising, but think if a small wrong translation in an IT or software manual meant that the entire program or a part of it can collapse easily.

Bengali translation you can rely:
For execute the translation job successfully, you need to choose a reliable translation company, on which you can trust completely. You need to be sure about the quality, time and budget meets to your need.

We are in the languages translation field for last 15 years and serving small, medium and blue chip companies maintaining the hi-standard with low cost and shorter projection time.




Bengali to English translation, English to Bengali Translation: (বাংলা < > ইংরেজী অনুবাদ)

We assure you the Best of Quality in the work. If our profile matches and satisfies your requirements, we surely hold a chance with you which would be the best step towards our career growth.

We are capable to give the bulk volume of translated output per day, but it depends on the nature of the input document. We can increase our translators if you have urgency for the translation.

To prove our worth we can send you few samples of translation which we are currently doing and also which we have already done. Theses will tell you the quality of our work.

We employ only the very best Bengali translators the world has to offer. They are meticulously screened during our rigorous selection process so that only specialists having the best qualification, industry experience and subject expertise handle your translations. We only work with dependable and experienced translators who consistently display superior performance and quality results. We ensure that the Bengali translators assigned to your project have the appropriate expertise required to provide you with a high quality, culturally sensitive translation in any field that you desire.

Bengali Translation Fields: Document Translation ( IT Manual, Software Manual, Multilingual User Manual, Technical Script and Manual, Training Material, Medical Documents, Engineering Documents, Marketing & Advertising, Legal Documents, Literatures, Official Papers, Tourism, Sports), Website Translation, Software Localization, Multilingual Web Publications, Web Content management and translation, Print Publications.



We will be happy to provide you:
-Ensuring a cost effective budget using the latest tools and techniques
-24x7 service on demand
-A free sample translation
-A fast estimation


Bengali Translation

Bengali or Bangla (বাংলা) is an Indo-Aryan language of the eastern Indian subcontinent, evolved from the Magadhi Prakrit and Sanskrit languages. Bengali is native to the region of eastern South Asia known as Bengal, which comprises present day Bangladesh and the Indian state of West Bengal and Assam and Tripura. With nearly 230 million total speakers, Bengali is one of the most spoken languages. Bengali is the primary language spoken in Bangladesh and is the second most spoken language in India. Along with Assamese, it is geographically the most eastern of the Indo-Iranian languages.



Official status
Bengali is the national and official language of Bangladesh and one of the 23 official languages recognized by the Republic of India. It is the official language of the states of West Bengal and Tripura. It is a major language in the Indian union territory of Andaman and Nicobar Islands. It is also the co-official language of Assam. The national anthems of India were written by the Bengali Nobel laureate Rabindranath Tagore.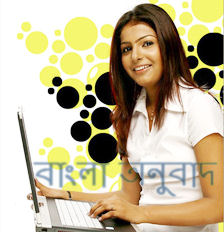 While most writings are carried out in Standard Colloquial Bengali, spoken dialects exhibit a greater variety. South-eastern West Bengal, including Kolkata, speak in Standard Colloquial Bengali. Other parts of West Bengal and western Bangladesh speak in dialects that are minor variations, such as the Medinipur dialect characterised by some unique words and constructions.



Bengali has as many as 100,000 separate words, of which 50,000 are considered tôtshômo (direct reborrowings from Sanskrit), 21,100 are tôdbhôbo (native words with Sanskrit cognates), and the rest being bideshi (foreign borrowings) and deshi (Austroasiatic borrowings) words.





Bengali to English Translation services - Low Cost Bengali Translation- Indian Language Translators - Cost effective Bengali Translation Network -
Kolkata Bengali Translation - Website Localization India - Kolkata Translators - Bengali Content Writing India - Bengali Language Professionals Kolkata.